"Bitrix. Mobile"
"Bitrix. Mobile Application" - it is technology that allows you quickly create mobile applications designed for iOS and Android, for websites operating on "Bitrix" platform. Applications are published in AppStore and Google Play.

The platform already has applications!
Cost benefit
High s development speed
It is enough to know HTML5, JS, CSS
This is a new business for web studies
Platform for mobile applications
"Bitrix. Mobile Applications" - technology for mobile application design, which will run based on iOS and Android OS. On the basis of technology there are already implemented and successfully running mobile applications for "Bitrix" sites. The product helps site owners to avoid complex and expensive development and gives websites' developers the ability to release and publish applications using only HTML5 and JS.
Website owners have new possibilities
All online stores and web projects, operating under "Bitrix. Site Manager", owners can quickly get mobile application for their site and avoid complex and costly development.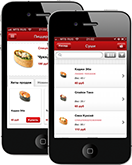 Websites developers can create their own mobile gadgets
With mobile platform application development and publication is a simple and affordable: developers create applications using only HTML5 and JS.
Demo Mobile Web Store